Dr. Aida Hurtado is awarded the 2020 Heritage Award honored by Section 35 Women in Psychology, part of the American Psychological Association (APA) in recognition of her distinguished, long-standing and substantial contributions to women and/or gender issues!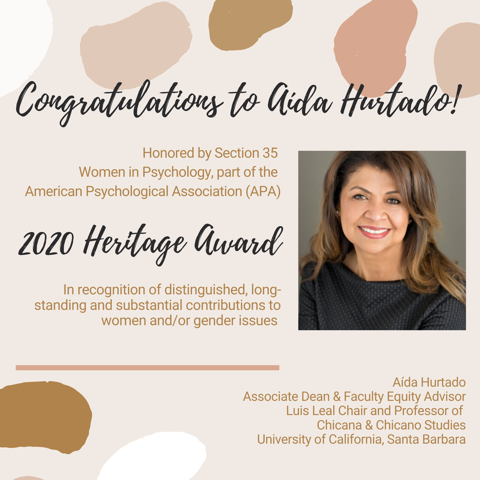 About the Heritage Award:
This award is presented annually to a senior individual who has made distinguished, long-standing and substantial contributions that pertain to women, gender or related issues in any of the following three areas:

 

Teaching | Mentoring Practice | AdvocacyResearch | Scholarship
About Division 35:
Div. 35: Society for the Psychology of Women provides an organizational base for all feminists, women and men of all national origins, who are interested in teaching, research, or practice in the psychology of women.

 

The division recognizes a diversity of women's experiences which result from a variety of factors, including ethnicity, culture, language, socioeconomic status, age, and sexual orientation.

 

The division promotes feminist research, theories, education, and practice toward understanding and improving the lives of girls and women in all their diversities; encourages scholarship on the social construction of gender relations across multicultural contexts; applies its scholarship to transforming the knowledge base of psychology; advocates action toward public policies that advance equality and social justice; and seeks to empower women in community, national, and global leadership.
May 21, 2020 - 1:15pm