Luis Leal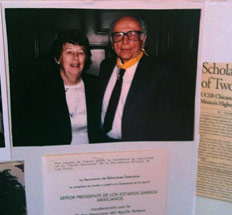 Distinguido Profesor de UCSB Fallece
Professor Luis Leal died at the age of 102 after a long career that was almost legendary. He was a distinguished and prolific scholar whose career spanned over parts of seven decades. Born in Linares, Nuevo León (Mexico) in September l7, l907, he experienced the Mexican Revolution, the Great Depression, World War II (as a soldier), the Civil Rights era, the Chicano Movement, the establishment of the first PhD in Chicano Studies in the United States at UCSB, and the financial collapse of the last decade.
His awards increased in stature and significance in the later stages of life, with the prestigious Aztec Eagle in l99l from Mexican President Carlos Salinas de Gortari, partly responsible for establishing the Luis Leal Endowed Chair in Chicano Studies at UCSB in l995. In l997 he received from President Bill Clinton the National Medal for the Humanities. He completed his teaching career at UCSB in 2006. His life has been an inspiration for many, but most will remember forever his galvanizing personality, intellect, and charisma.
El distinguido catedrático Luis Leal falleció en Santa Bárbara el 25 de enero a la edad de l02 años. Oriundo de Linares, Nuevo León, nació el l7 de septiembre de l907, "Don Luis", como solían decirle, inmigró a Chicago en l926 para estudiar matemáticas, pero pronto descubrió el mundo de las letras y posteriormente en l950 se recibió con un doctorado en literatura de la famosa Universidad de Chicago. Trabajando arduamente en sus proyectos hasta septiembre de 2009, el Profesor Leal editó 45 libros y más de 400 artículos, además de casi l00 reseñas y otros l00 proyectos de orden popular como colección de corridos y ensayos periodísticos. Su larga trayectoria como estudioso llegó a ser legendaria igual que su don de gente como caballero y líder de la comunidad. Incluso participó, con el Profesor Víctor Fuentes y otros catedráticos, en un programa televisivo hasta el año pasado llamado "Celebración" para la comunidad general.
Entre sus muchos reconocimientos, vale destacar su medalla Orden Mexicana del Aguila Azteca de l991 que recibió del Presidente Salinas de Gortari por contribuir a la cultura mexicana en el extranjero, su Medalla Nacional de las Humanidades entregada por el Presidente Clinton en l997 por sus aportaciones en las humanidades, y un doctorado honoris causa de la Universidad de Illinois en l999, por su inagotable actividad como profesor, habiendo dirigido 44 disertaciones.